MIG Welding Guns
Work smarter not harder with our MIG Welding Gun! KC Welding's MIG welding gun has a patented roller bearing design that provides a class-leading torch angle. KC Welding has been building MIG welding equipment since 1962.  Our G-100 MIG gun, designed initially for pipeline use, has found wide acceptance in the shop and yard.  The KC MIG welding gun is among the finest in its class, especially for situations involving tight quarters or fatiguing welding conditions.  Its patented torch head utilizes a series of bearings, which boast the following advantages:
A sharp head angle of 75 degrees, resulting in a compact head that allows better access to tight places
The 75 degree angle is comfortable for sustained operation and is easy to use
The ball bearing assembly is virtually maintenance free and is contained in an extremely durable stainless steel outer housing
The bearings provide a low friction path for the welding wire, providing smooth operation
The G-100 utilizes screw-on copper nozzles that are available in three sizes to cover almost any application.  These nozzles feature an O-ring seal to prevent air entrainment during operation.  All G-100 nozzles exhibit excellent service life due to a heavier wall thickness than that found on the nozzles made from tubing stock that are common on torches of lesser quality. While KC Welding's GMAW gun is more expensive than the competition manufactured overseas, rest assured you're buying a high-quality product that is 100% manufactured in the United States.
---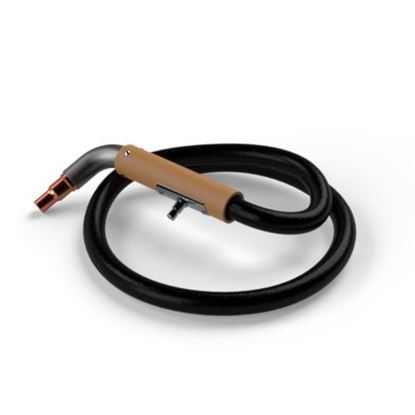 Our MIG welding gun provides a comfortable torch angle and excellent access to tight spaces.